Oyu is an advanced hot water dispenser with a modern and intuitive touch display by Yum Asia.


Disadvantages to kettles and other electric water heaters

The main disadvantage to 'traditional' electric water heaters is that they use a lot of energy keeping a tank full of water at the correct temperature for use, usually having to reboil at intervals to get the water to the temperature you want. Traditional kettles are very inefficient due to having to boil more water than required and a lot of the heat from the boiling water being lost due to inadequate/non-existent insulation on the kettle. We then looked at Japanese water heater technologies, learned exactly how they work and their best and most useful features and found that whilst vacuum technology to keep water hot and on demand was good it was not as energy efficient as on demand 'instant' water heating.
Oyu Smart Instant Hot Water Dispenser is the answer to all of these issues.
Oyu Smart Instant Hot Water Dispenser is a unique, stylish and modern water dispenser that allows you to enjoy fresh and safe hot or cold water instantly in your home or small office. With a 3 second rapid heat, it really does give the convenience of boiling water available at the touch of a button. This means that you can enjoy the convenience of drinks at the exact temperature you want (ambient to 99°C), only heating the exact amount of water that is needed, thereby saving energy and (most importantly!) money.
Features and Functions
Oyu has unique technology that allows you to enjoy water at a wide range of temperatures with a 3 second rapid heat system to ensure your cup is filled fast.

Equipped with a modern touch LED display for easy use and hygiene is cleverly hidden under the intuitive control panel. You can adjust the temperature, volume and dispense with the touch of a button. The memory can also hold the last temperature and volume dispensed to make brewing your favourite drink even easier!

Oyu has special 'steady stream' technology which means that during the water dispensing, any splashing is minimised, so there's no chance of accidental splashes on you or your worktop.

The temperature range of Oyu ranges from ambient (minimum temperature of 4°C). You can adjust the dispensing water temperature by 5°C up to a maximum temperature of 99°C. This means you can set your water temperature to whatever your beverage is suited to.

Due to the smart insta-heat dispensing water at your chosen temperature, Oyu is the most energy saving water heater that Yum Asia sells. You are only dispensing and heating the exact amount of water you require, whereas with a kettle you often boil a lot more than is needed, wasting both money due to overconsumption of energy or heat from the inefficient/non-existent insulation on a kettle. It saves energy compared to conventional water heaters because you aren't keeping any water warm, you are just heating as it's needed.

Oyu is equipped with a unique Yum Ecoboil system which means it gets the water you are dispensing to the correct temperature fast to ensure the beverage you are brewing is fresh and hot.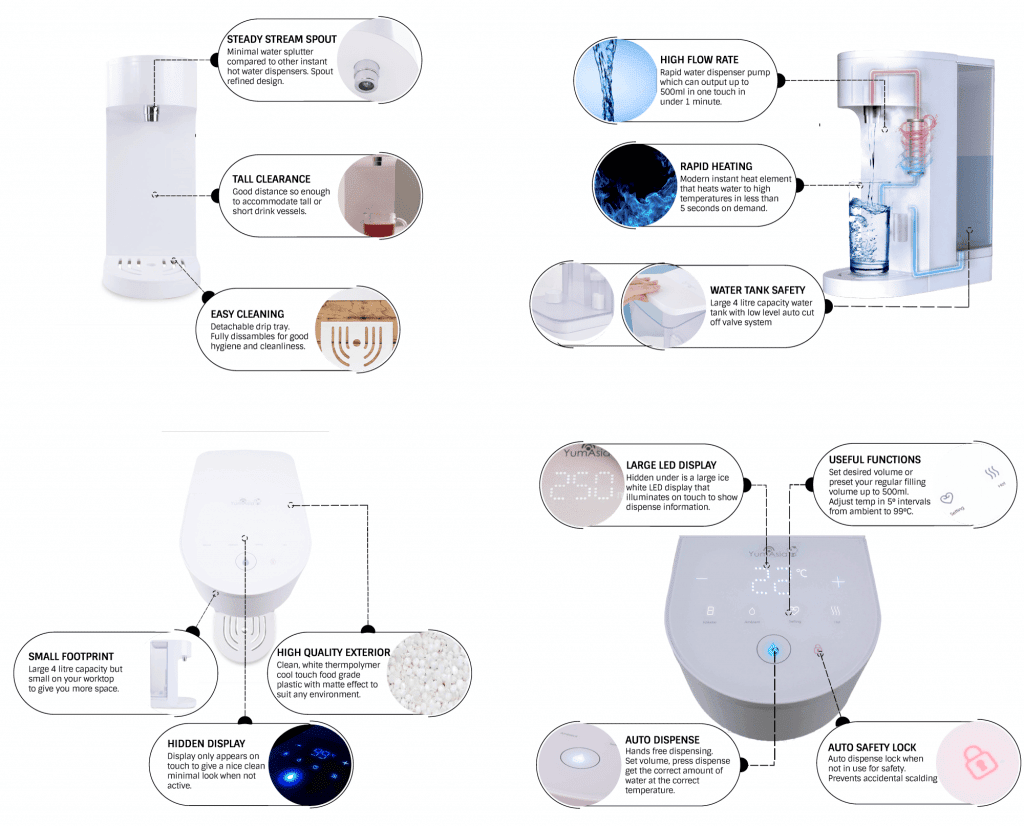 Oyu is a fabulous piece of kitchen kit that really delivers on performance and price.
Buy in the UK at – https://yum-asia.com/uk/product/oyu-instant-hot-water-dispenser/
Buy in the EU at – https://yum-asia.com/eu/product/oyu-instant-hot-water-dispenser/