Having a coffee or tea habit can really put a dent in your pocket! Especially as now most coffee and tea retailers are either offering a discount to customers who bring their own cup or charging extra for disposable single-use cups. We have put a handy list at the bottom of this post of the coffee and tea retailers that offer discounts for customers bringing their own cups.
The problem with single-use cups
The major problem with single-use cups is that although they look like they are made from cardboard/paper (which they are, mostly), there is a layer of polyethylene inside which makes the paper/cardboard able to hold the hot liquid without disintegrating. It is this polyethylene layer that makes single-use cups really, really difficult to recycle.
It's estimated that in the UK alone, we go through around three billion disposable coffee cups each year, and fewer than 1% of them are recycled in the UK; those that are recycled have to be processed at a very small number of special recycling plants. This is bad for the environment and there is now a real push to stop the use of single-use cups with reusable cups coming on to the market that are not only eco-friendly but money-saving too!
Our thought process behind Kenzai
Here at Yum Asia, we have always sold thermal mugs which are slightly different, but still very useful and eco-friendly, to reusable cups. So we decided to launch our own reusable cup called Kenzai which can be used for tea, coffee, juices, smoothies, hot or iced chocolate – anything really! We carefully looked at other cups available in the UK and found that a lot of the reviews complained about the lids of these cups being silicone. Our research and feedback from friends, told us that these silicone lids, even though food grade still were problematic with tainting the liquid inside the cup with the taste of the silicone and that after time, the silicone distorted and didn't fit the cup as well as it should. So we started researching other options for our reusable cup.
Kenzai (健在) by Yum Asia
Kenzai was then born! It has the look and feel of a single-use cup, but it's much sturdier and designed to be used again and again. Kenzai is a stylish dark brown colour with 4mm sawtooth silicone sleeve to protect your hands from the heat of the cup and for a better grip. We chose several designs that were stylish and appealed to all genders so there is literally a cup for everyone! Kenzai have a bamboo screw lid which is our answer to the lid problem our research highlighted – not only does it ensure a snug fit with the lid and cup, it has the added bonus of stopping leaks as well as limiting the non-biodegradable (but still recyclable) silicone on the cup. There is a removable stopper which stops the drink from spilling through the holes in the lid – the centre hole can also be used for a (hopefully non-plastic!) straw if you have juice, smoothies or iced chocolate, coffee or tea in the cup.
After a lot of thought, we decided on a 14oz or 400ml size because the most common coffee size bought in the UK is 14oz, however 12oz (the second most common size) can also be put into kenzai equally as well.
In Japanese, the word kenzai means strong, healthy, hearty and robust and that's exactly what the cup is! Kenzai is made from bamboo fibre, the most sustainable and fastest growing crop in the world. It is BPA, phthalate free and it's strong, dishwasher safe (all of the mug including the lid and sleeve) and if you treat it right should last for years!
In fact, kenzai's cup and lid are fully biodegradable. Once you have finished with it you can crush it, soak in hot water and then throw it in your composter and it will fully break down. The silicone sleeve and stopper are recyclable. It's sturdy, strong and dishwasher safe so you can be sure that your reusable cup is completely clean every time you use it.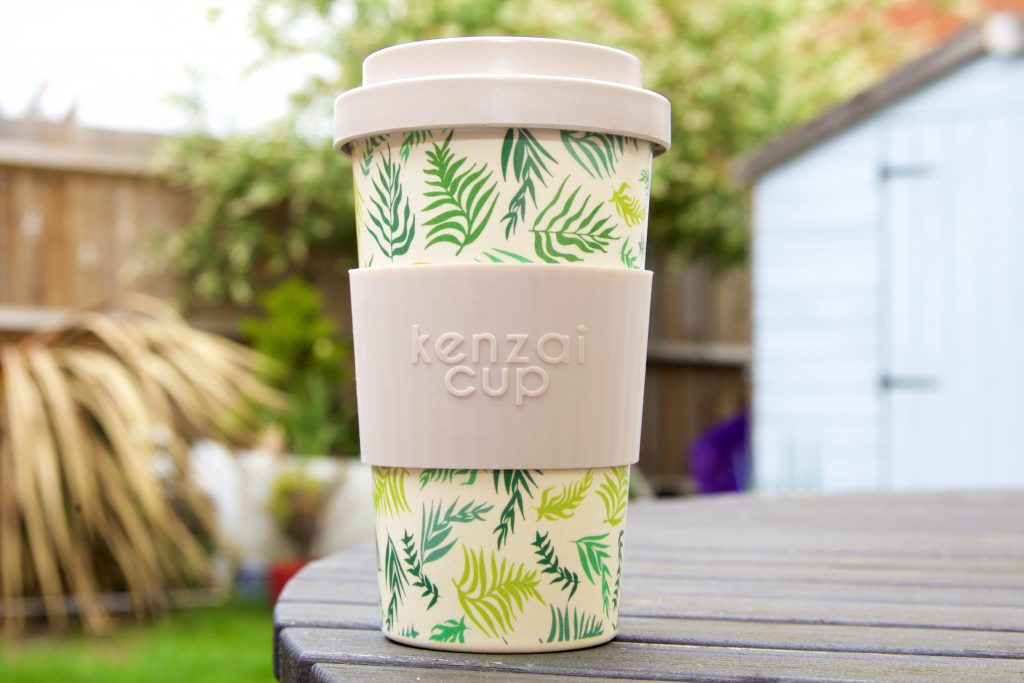 How to purchase a kenzai cup?
We have some special offers on the kenzai cup – it's cheap as chips for one cup and there are discounts for multiple purchases (both on the cup price and shipping). If you purchase a kenzai cup with any electrical item then the shipping cost for kenzai is free, we will combine this with your electrical item.
So, what are you waiting for? Purchase a kenzai reusable cup here on Yum Asia's website!

Retailers offering discounts for bringing your own cup
Starbucks – 25p off at any Starbucks store or counter, including at cinemas and train stations. The discount excludes filter coffee. Starbucks will also start charging extra for single-use cups
Costa – 25p off in all stores apart from Northern Ireland on all hot and cold drinks.
Pret – 50p off at all stores (it increased from 25p off on 1 Jan 2018) on all hot and cold drinks.
Paul – 25p off, although Paul doesn't have many stores outside London
Greggs – 20p off. If you bring your own cup, you'll get 20p off any hot drink.
Caffè Nero – no money off, but you do get double stamps on your loyalty card. If you bring your own cup, you get twice the loyalty card stamps which means you only have to buy five drinks to get one free (normally it's nine drinks)
Independent coffee shops and Universities
A number of other retailers are trying to encourage the use of reusable cups around the country. Notably, University College London offers either 10p or 10% off (depending on what campus cafe you use) for bringing a reusable cup. Loughborough University will give 10% off and Leeds University 10p off for bringing your reusable cup.
It's always worth asking your local independent coffee shop if they have a policy for discounts for bringing reusable cups.
Free drinks?!
Widely known for this, Waitrose offers free tea and coffee to members of its loyalty programme when they shop. It asks those that sit in with their drink buy something from the cafe. By Autumn of 2018 it will have removed all single-use takeway cups from it's cafes and ask that customers bring their own reusable cup.
If you have Ikea's "family" membership scheme you get free tea and coffee Monday to Friday (it's 95p for everyone else) and we are sure Ikea wouldn't mind you using your own reusable cup!
Similar to Waitrose, Booths (a supermarket chain based in northern England) also offers cardholders a free regular-sized hot drink everyday in selected stores from the takeaway coffee machine. Customers who want to drink it in one of its cafes must buy something in addition. Again, like Ikea, there can be no complaints if you want to use your own cup.
Where have you found offer discounts or freebies for bringing a reusable cup? Let us know any retailers you have found and we can add them to our list!