Thai Hom-Mali Rice / 泰國茉莉香米 / ข้าวหอมมะลิไทย / Gạo thơm lài
Thai Hom-Mali Rice, also known as premium Thai Jasmine Rice, is perhaps the most famous type of Thai rice known globally. It has a long grain with moist and soft texture after cooking. Its unique quality is perhaps the pandan aromatic scent while being cooked. The rice was first grown in Thailand, which remains home to the best quality Thai Hom Mali Rice. It is annually grown and can be harvested only once a year during the months of October to November due to it's very specific growing requirements. In this respect it is the fussiest of Jasmine grains.
Where is it grown?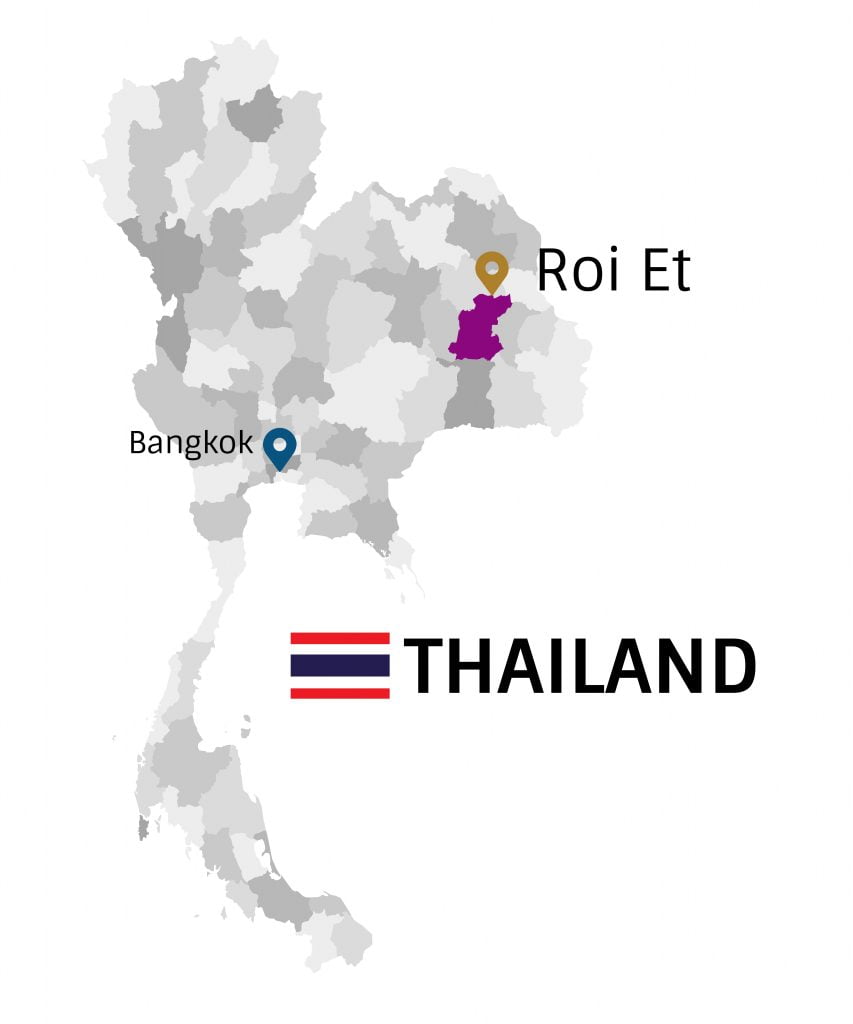 In a similar fashion to how grapes are grown and wine is fermented at vineyards, the finest class grains of Thai Jasmine rice are grown only in specific areas of Thailand. These are mostly in the north eastern provincial areas such as Ubon Ratchathani, Burirum, Sisaket, Roi Et, Yasothon and Surin.
These regions have the appropriate environmental features, such as the plentiful sunshine through the year, volume of rain, and agricultural access to the finest Jasmine rice grain which can only truly be grown in these provinces. The farmers in this region are at the top of their game in Jasmine rice growing and it shows as the rice mills of this region churn out consistent award winning rice that are the envy of rice growers around the world.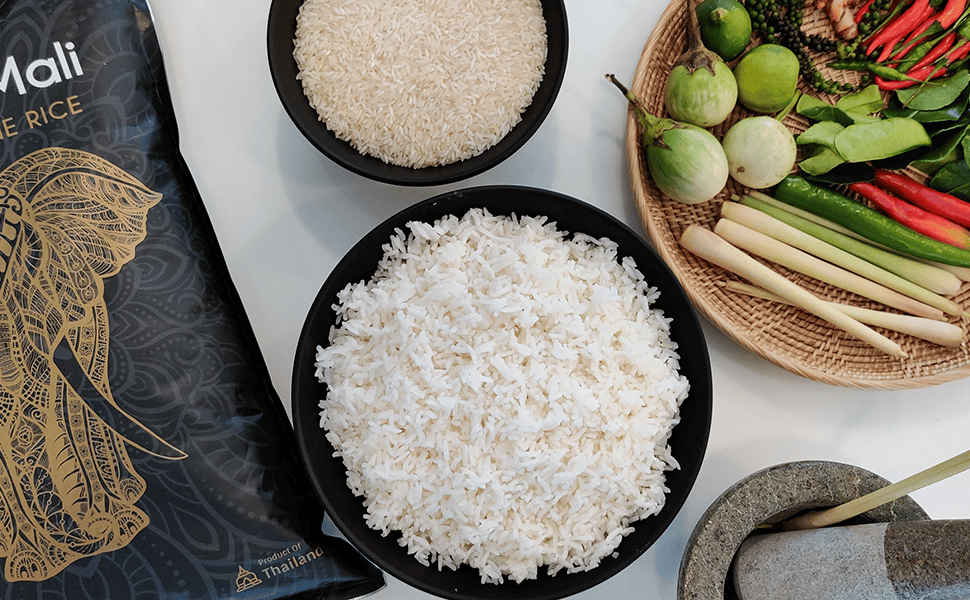 How Hom Mali is graded
Not all Jasmine rice is created equally. There is even rice that's named Hom Mali that don't actually comply with the Thai ministry of commerce regulations to be declared as such. For rice to be named Hom Mali of premium grade it needs to have followed the notification of the Ministry of Commerce to be given approval to be labelled and exported as a true Hom Mali grain. There are also different grades of Hom Mali such as 100% (Purity 92% Minimum), Mixed 80:20 and 100% broken (A1 Extra Super). AAA grade usually defines the highest in export quality which is 100% with a minimum of 92% purity. Anything less than this is usually broken or mixed in content.
Prescribing THAI HOM MALI RICE as a standardized commodities and the standards of THAI HOM MALI RICE, B.E. 2544 (2001). This list is not the full requirements but gives you an idea of the strictness by which a rice has to be assessed before being declared the regal name of 'Hom Mali'
containing not less than 92.0% of THAI HOM MALI RICE*
having a moisture content not exceeding 14.0%
having a general characteristics of a long grain rice with naturally little chalk
not having any live insects
having a kernel sizes as follows the average length of the whole kernel without any broken part shall not be less than 7.0 mm.A26 the ratio of the average length to the average width of the whole kernel without any broken part shall not be less than 3.2:1
having the chemical properties as follows amylose content shall not be less than 13.0-18.0% at the moisture content of 14.0% alkali spreading value of white rice kernels at level 6-7.
How to cook and use Hom Mali
Hom Mali rice produces a flavour, aroma and silky texture that is authentically like what you would get in the finest restaurants of Eastern Asia. It's the perfect complement to a curry, stir-fry and other Thai and Asian dishes. The versatility performance of the grain is exceptional. Not overly sticky or overly dry. Can be clumped but also show distinctive grains when cooked. The taste is simply wow in your mouth.
Of course the best way to cook this and most types of rice is in a good quality rice cooker. A saucepan will also work but due to the fuzzy logic cooking phases of electronic rice cookers the fine adjustments in the type of heating applied to the rice really brings out the flavour, aroma and texture to the maximum. These types of rice cookers don't just boil the rice but use phased cooking such as steaming, braising, graduated heat curves to tenderly and lovingly cook the rice whilst keeping the flavours, texture and aroma in tact. Unless you know what you are doing with a saucepan involving various stages of heating, cooling, resting and steaming, a novice will just end up leeching all the goodness out of the rice because the rice is boiled to an extreme when this is definitely not the right way to cook rice of this calibre.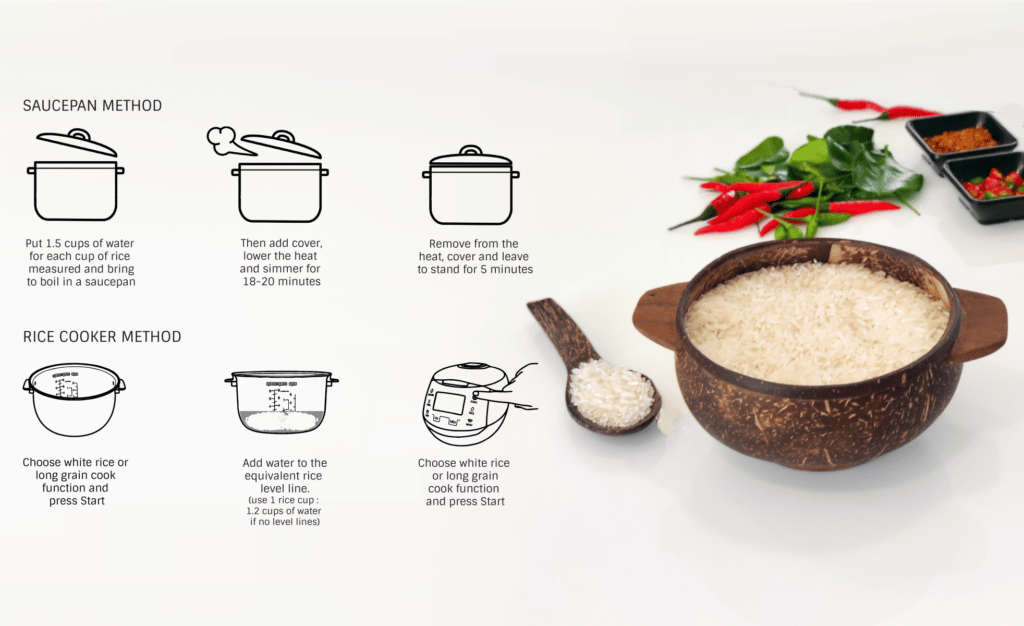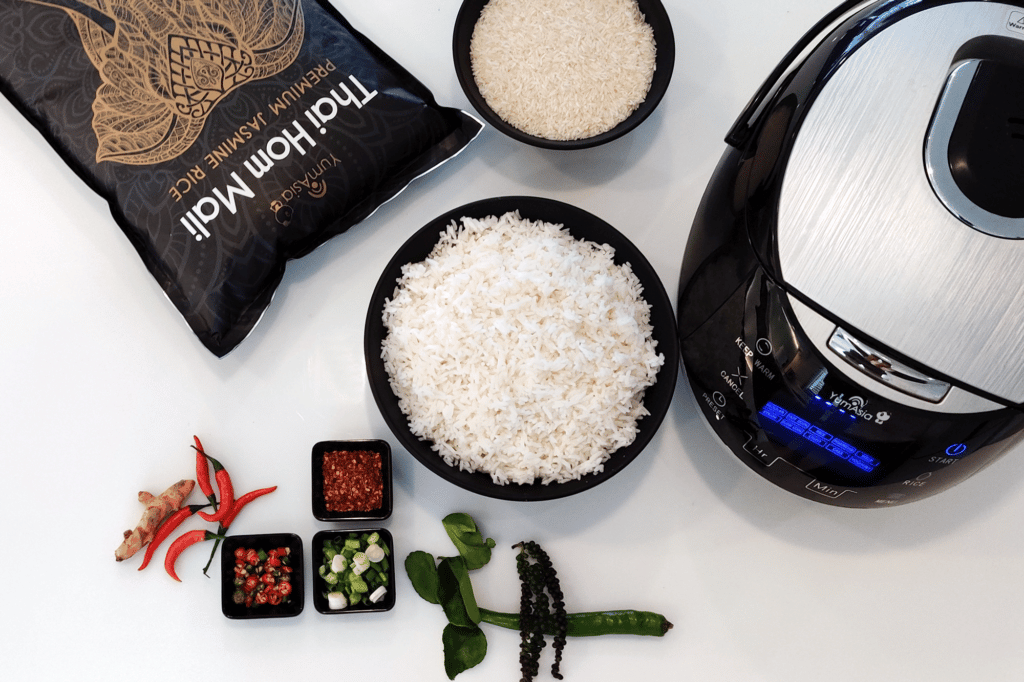 We can highly recommend Yum Asia Premium Jasmine Hom Mali rice in 5kg bags. Carefully selected for the highest grade Jasmine money can buy and chosen to work well in rice cookers and saucepans alike. We have never tasted Jasmine like it!
Here is a video from our Thai rice mill…sent with love to show you how they do it right: