What springs to mind when you think about Indian food? Tandoori, Tikka, Vindaloo and other famous dishes? There is so much more to Indian cooking.
With so many exotic ingredients and spice combinations, it can be very easy to feel intimidated by Indian food – especially when you are trying to re-create your favourite dishes at home. Indian food is diverse depending on the region a dish comes from – compare the difference between a north Indian curry like Chicken Tikka Masala, Butter Chicken or a Goan curry or Kashmiri curry like Rogan Josh; some of the spices and ingredients in common, but a completely different flavour! OK, so there is some argument that Chicken Tikka Masala was a British invention, but when we travelled around Northern India, it was on every single menu we looked at!
Indian food is also one of the most vegetarian friendly cuisines in the world – there are a plethora of veg dishes in Indian cuisine and what amazing veg dishes there are to choose from. Aloo Gobi is our particular favourite, Palak Paneer with the amazing silkiness of the paneer, Dum Aloo (Kashmiri), Malai Kofte, a lovely comforting Daal or what could be better than a stuffed Paratha for breakfast dipped in various curry sauces and Daal. Sorry, we are beginning to drool!
Living with a dairy allergy means it's very difficult to eat out at an Indian restaurant (with ghee – clarified butter and yoghurt creeping into dishes), so cooking Indian dishes at home is a particular skill we are beginning to get to grips with, as going without Indian food is not an option! Our spectacular Rogan Josh curry (Kashmiri) can be made as both a veg or a non-veg curry and can be adapted as dairy free too by using non-cow milk in the sauce.
Indian food is also not complete without some kind of flatbread – naan is difficult as again, it's got yoghurt or milk in the dough. We make our own which are dairy-free and it is very, very easy. Perfect with any Indian curry along with plain, basmati or jasmine rice from your rice cooker.
So, here is a recap of our favourite Indian recipes!
Chicken Tikka Masala – amazing tomato based curry, can be as hot or as mild as you like…just don't do what we did and add too much chilli the first time we made it – it was inedible because it was too spicy!
Kadai Chicken – we had this on many occasions in India and it's a lovely tomato based curry with a nice veg and meat balance.
Rogan Josh – by far our favourite, it can be made with jarred paste but we really recommend trying homemade paste at least once. The vibrancy of the homemade paste can't be beaten.
Aloo Gobi – even the most fervent meat eater will love this curry. Aloo = potatoes and Gobi = cauliflower. We even had this made with brocolli in a restaurant in Mumbai and it worked very well.
Saffron Rice – a great recipe when plain basmati just won't do. The saffron (or tumeric) adds such a vibrant golden colour to the rice. Delicious with any Indian dish.
Goan Fish Curry – everything a curry should be…layers of flavour and depth. Can be adapted to vegetarian or vegan easily.
Flatbreads – super-easy and dairy-free flatbreads that are delicious
Now if those recipes have whet your appetite and you want to cook more Indian food, then we highly recommend Hari Ghotra as your next stop for Indian food recipes. She has an unbelievable amount of recipes on her site – www.harighotra.co.uk all with simple, easy instructions. Some of the recipes even have You Tube videos to accompany them so it's easier and less intimidating to cook.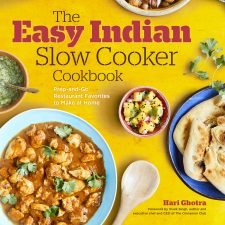 If you are using your Sakura slow cook function for Indian food (which we do all the time!), then we also highly recommend Hari's new book – 'The Easy Indian Slow Cooker Cookbook' which is now available to purchase.
So what are you waiting for? Get in that kitchen and cook up a storm of Indian spices!